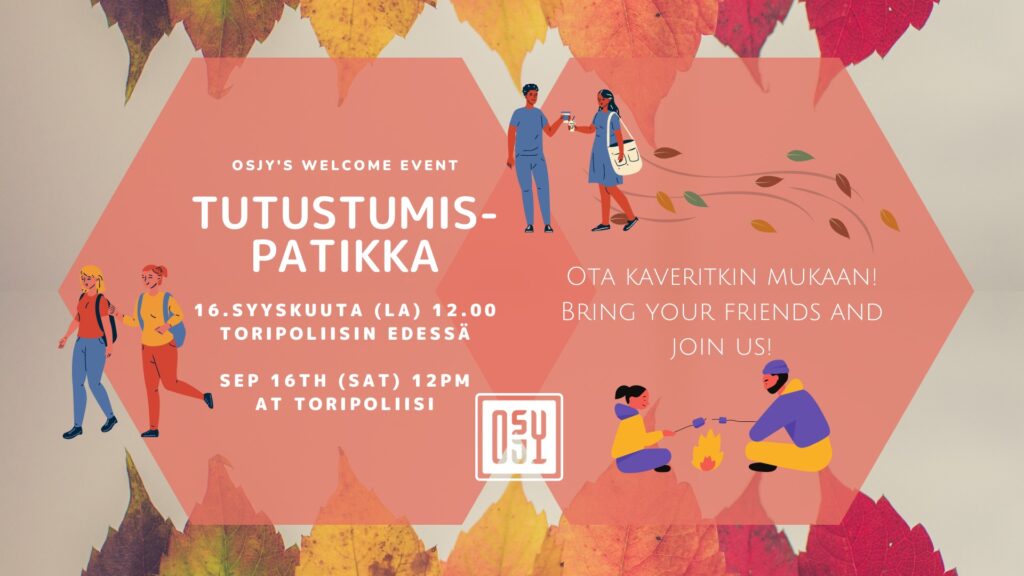 OSJYn syksyn ensimmäinen tapahtuma on perinteinen Tutustumisilta! Mukaan ovat tervetulleita vanhat ja uudet jäsenemme, japanilaiset vaihto-opiskelijat sekä kaikki jäsenyydestä tai Japanista kiinnostuneet.
Tapaamme klo 12.00 Toripoliisi-patsaalla, josta kävelemme yhdessä tapahtumapaikalle Ainolan puistoon. Voit liittyä seuraamme myös myöhemmin puistossa. Kokoonnumme Kiikkusaaren rannalla olevalle grillauspaikalle (suihkulähteiden edustalle). Ohjelmassa on tutustumista, makkaranpaistoa ja rentoa yhdessäoloa. Ota mukaan omat eväät ja lämmintä vaatetta. OSJY hoitaa polttopuut. Huonon sään sattuessa siirrymme sisätiloihin grillauspaikan vierellä olevaan Alaköökiin.
Aika: 16.9.2023 (Lauantai), 12-15
Paikka: Kiikkusaaren nuotiopaikka / Alakööki
Ohjelma: 12.00 Kokoontuminen Toripolliisi-patsaalle, josta kävelemme
yhdessä Alaköökille ja Kiikkusaaren nuotiopaikalle Ainolan puistoon
12.30-15.00 Grillailua ja rentoa yhdessäoloa
***
The first OSJY event of the autumn is our traditional Tutustumisilta or getting to know each other event. All of our old members, new members, Japanese exchange students and everyone interested in membership or Japanese culture are welcome.
We will meet at the Toripoliisi statue at 12pm, and walk together to Ainola Park. You can also join us later at the venue, if you wish. We will gather at the BBQ spot in Kiikkusaari (by the river, near the fountains).
Agenda for the event is to get to know each other, baking sausage and hanging out together.
Bring your own snacks, and remember to dress warmly!
OSJY will bring the firewood. In case of a bad weather, we will stay indoors in Alakööki, next to the BBQ spot.
Time: 16.9.2023 (Saturday), at 12-15.
Place: Kiikkusaari BBQ spot/Alakööki
Program:
12:00 Gathering at the Toripoliisi statue, walking to Ainola Park
12:30-15:00 BBQ and hanging out