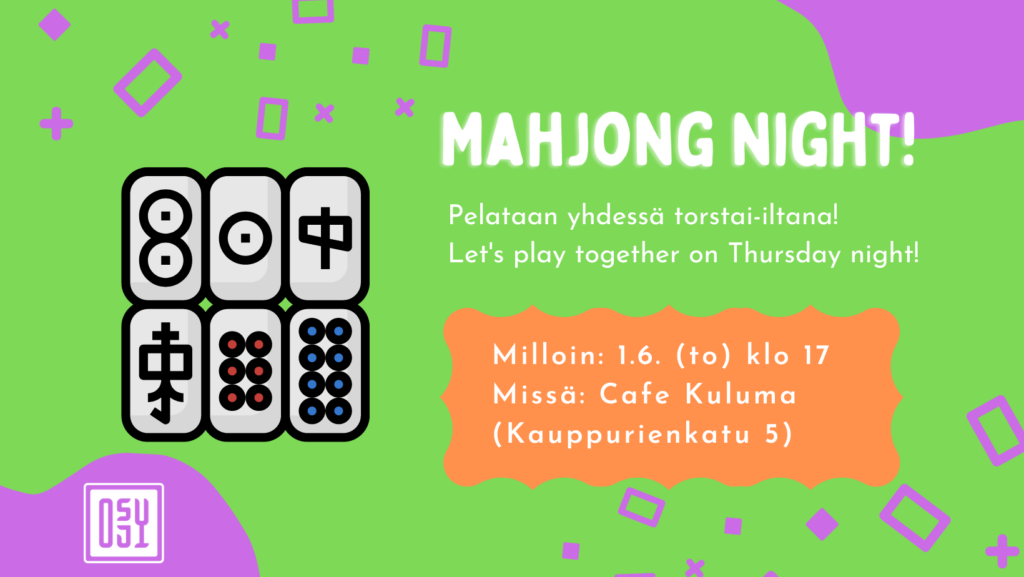 OSJYn Mahjong-ilta on täällä taas! Mahjong on laatoilla pelattava Kiinassa kehitetty peli, joka on supersuosittu Japanissakin. Nyt sinullakin on mahdollisuus päästä kokeilemaan tätä upeaa peliä!
Älä epäröi osallistua tapahtumaan, vaikka et olisikaan pelannut mahjongia ennen. Paikalla on konkaripelaajia, jotka mielellään tutustuttavat osallistujat mahjongin sääntöihin!
Paikka: Cafe Kuluma (Kauppurienkatu 5)
Aika: torstai 1.6. klo 17 alkaen
Tervetuloa mukaan!
---
OSJY Mahjong event is coming up again! Mahjong is a tile-based game that originated in China, and is played popularly in Japan. Now you have a chance to try out this amazing game as well!
Don't hesitate to join the event even if you've never played mahjong before. There will be experienced players at the event who would be more than happy to explain the rules of the game to beginners.
Place: Cafe Kuluma (Kauppurienkatu 5)
Time: Thursday June 1st at 17:00
Welcome!