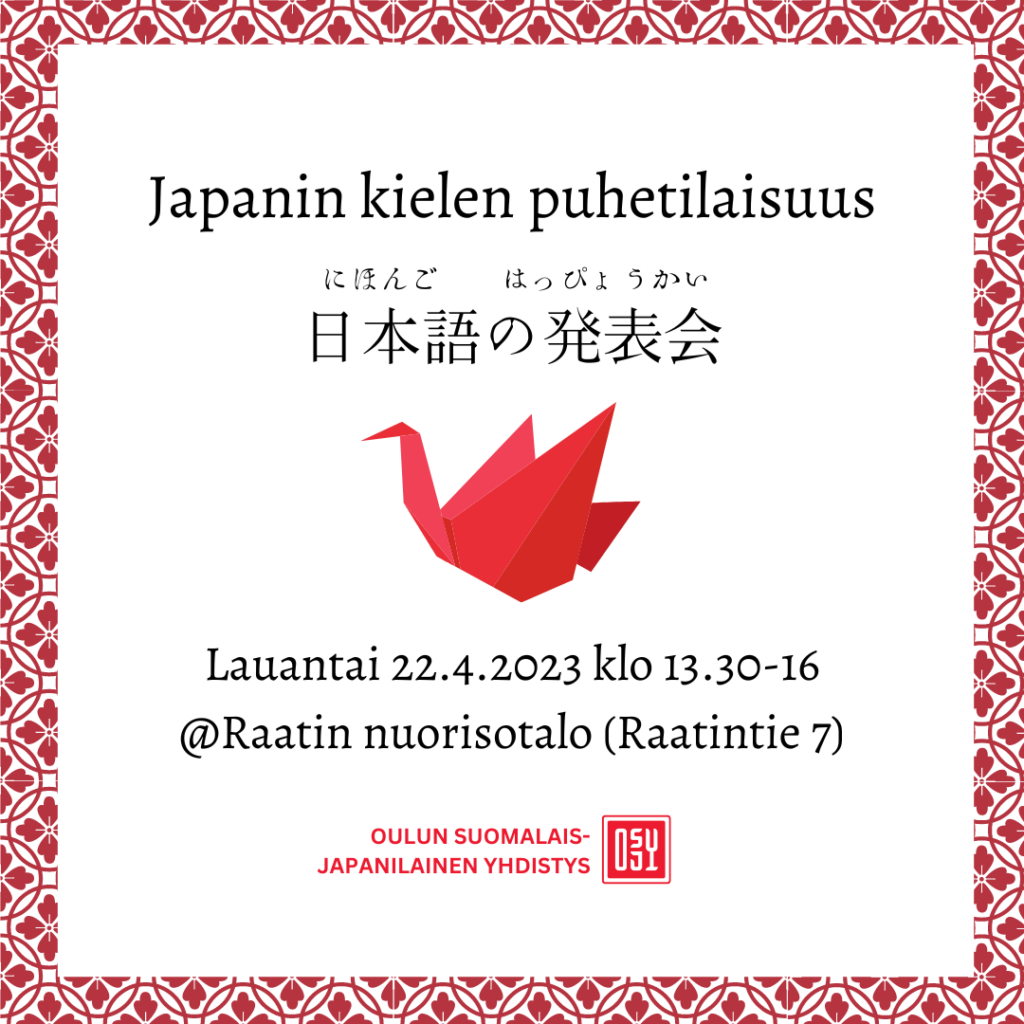 Japanin kielen puhetilaisuus järjestetään jälleen yhteistyössä oululaisten japanin opettajien kanssa! Tilaisuus pidetään 22.4. klo 13:30-16:00 Raatin nuorisotalolla, Kuusisaaressa
Tule kuuntelemaan, kun japanin kielen opiskelijat pitävät lyhyitä puheita japaniksi. Puheiden aiheena on tänä vuonna Ystävyys – 友情.
Väliaikaohjelmassa on luvassa musiikkiesityksiä, ja tauolla on kahvitus ja teetarjoilu. Tapahtuma on kaikille avoin.
Tervetuloa!
Mitä: Japanin kielen puhetilaisuus
Missä: Raatin nuorisotalo, Raatintie 7
Milloin: 22.4. klo 13:30-16:00
---
Japanese speech event 2023
Japanese speech event is held again this year, with the collaboration of Japanese language teachers living in Oulu. The event will take place in Raatin nuorisotalo, in Kuusisaari, on April 22nd at 1:30-4pm.
Local students of Japanese language will to give short speeches in Japanese. The theme for this year's speeches is Friendship – 友情.
During the break there are musical performances, and we will serve coffee and tea. The event is open for everyone.
Welcome!
What: Japanese speech event
Where: Raatin nuorisotalo, Raatintie 7
When: April 22nd at 1:30pm-4:00pm
---