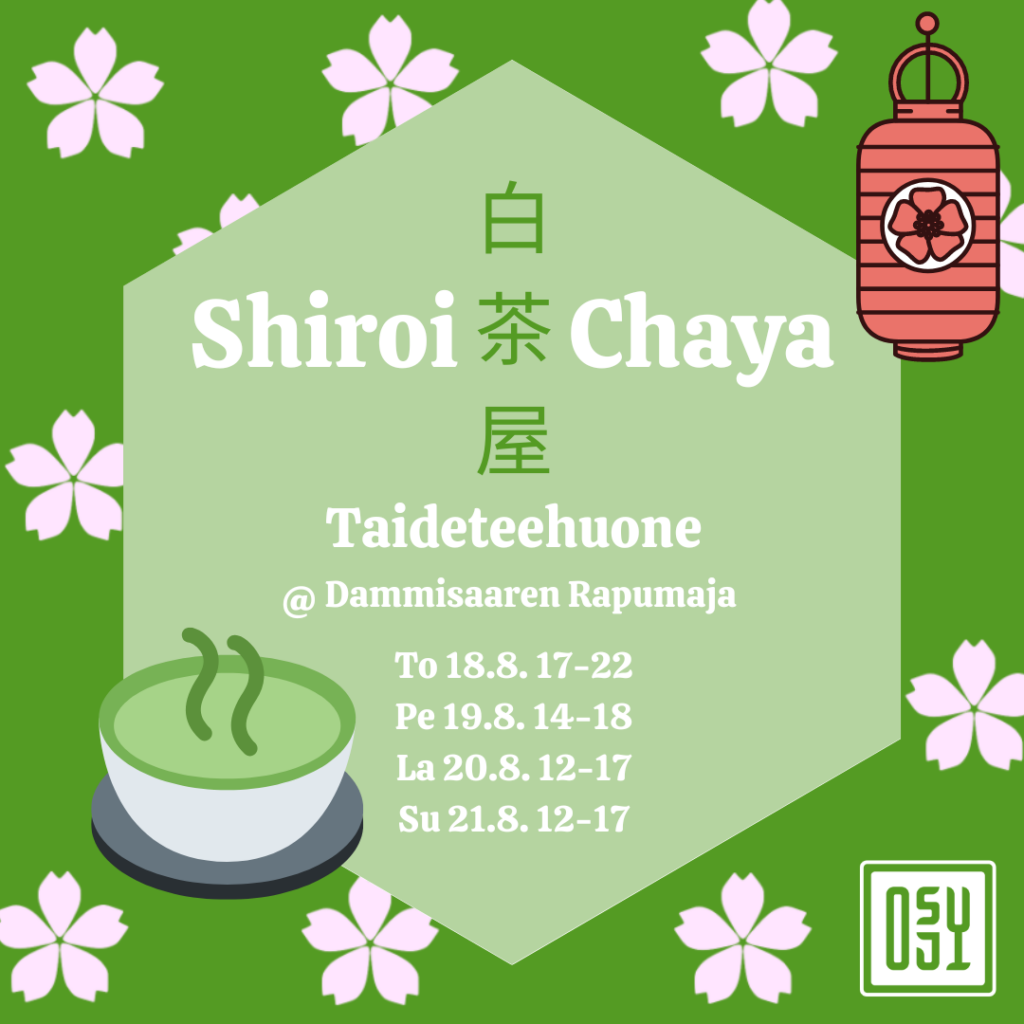 Teehuone Shiroi Chaya on avoinna:
To 18.8. 17-22
Pe 19.8. 14-18
La 20.8. 12-17
Su 21.8. 12-17
@ Dammisaaren Rapumaja, Ainolanpuisto
Nähdään teehuoneella!
Tervetuloa jälleen makumatkalle Japaniin Oulun Suomalais-Japanilaisen yhdistyksen pop-up-teehuoneelle Dammisaaren Rapumajalle! Tarjolla on japanilaista teetä ja naposteltavaa, paikallisten taiteilijoiden taidetta sekä musiikkia ja työpajoja.
Löytyykö kaapistasi yukata, kimono tai jokin muu japanilainen vaate? Teehuoneelle voit tulla myös teeman mukaisesti pukeutuneena!
Teehuoneen tunnelmasta saa tulla nauttimaan myös omien eväiden ja piknikvilttien kera. Lisäksi omalla kupilla saat 20 senttiä alennusta teen hinnasta, joten kannattaa kopata kuppi kotoa mukaan!
In English:
Japanese flavors arrive once again to Oulu at the pop-up tea room of the Oulu Finnish-Japanese Society at Dammisaari Rapumaja! There will be Japanese tea and snacks for sale, art by local artists, music, and workshops.
Looking for a chance to use your yukata, kimono or some other Japanese clothing? Now is your chance, the tea room warmly welcomes guests wearing Japanese clothes!
You are welcome to bring your own snacks and picnic blankets to the event. We also recommend you bring your own tea cup, as you'll get a 20-cent discount for tea!
Tea room Shiroi Chaya's opening hours:
Thu 18.8. 17-22
Fri 19.8. 14-18
Sat 20.8. 12-17
Sun 21.8. 12-17
@ Dammisaaren Rapumaja, Ainola park
See you at the tea room!
---
Ohjelma
Torstai 18.8.2022 
Teehuone avoinna 17.00 – 22.00.
18.00 Mindfulness-harjoitus teetä juoden
Opi yksinkertainen mindfulness-harjoitus, jota voit tehdä teetä – tai kahvia juodessasi. Harjoituksen pitää tietokirjailija Monika Luukkonen, joka on kirjoittanut tietokirjoja suomalaisesta elämästä Japaniin sekä Buddhan hipaisu -kirjan buddhalaisista ja aasialaisista mielen harjoitteista suomalaisille lukijoille.
18.30 Japanilaisen kalligrafian työpaja
Tule opettelemaan kalligrafiaa japanilaisten ohjaajien avustamina.
19.00 Sanshin-konsertti
Tule kuuntelemaan, kun Takako Uchida soittaa perinteistä japanilaista instrumenttia sanshinia. Illan aikana kuulemme kappaleet Asatoya Yunta (安里屋ゆんた), 19 no Haru (19の春) ja Warabigami (童神).
Perjantai 19.8.2022
Teehuone on avoinna 14.00 – 18.00.
Lauantai 20.8.2022
Teehuone on avoinna 12.00 – 17.00.
14.00-17.00 Yukata workshop ja valokuvaus, origami workshop
Kokeile millaista on pukea päälle japanilainen kesävaate yukata! Pukemisen jälkeen on mahdollista ottaa valokuva Dammisaaren idyllisessä puistomaisemassa. Varaa aikaa pukemiseen noin 20 min. Yukatan pukeminen ja valokuvaus 10 €.
Odotellessasi voit osallistua origami-paperitaiteen työpajaan.
Sunnuntai 21.8.2022
Teehuone on avoinna 12.00 – 17.00.
OSJY ry varaa oikeuden muutoksiin aikataulussa.
---
Program
Thursday 18.8.2022 
The tea room is open from 17:00 – 22:00.
18:00 Mindfulness exercise while drinking tea
Learn a simple mindfulness exercise you can do while having tea – or coffee. The instructor of the exercise is Monika Luukkonen, who has written books about Finnish life for the Japanese market and the book Buddhan hipaisu (Buddha's touch) in Finnish, which is about Buddhist and Asian mindfulness practices.
18:30 Japanese calligraphy workshop
Learn calligraphy with Japanese instructors.
19:00 Sanshin concert
Come to listen to the traditional Japanese instrument Sanshin played by Takako Uchida. During the evening, we will hear the songs Asatoya Yunta (安里屋ゆんた), 19 no Haru (19の春), and Warabigami (童神).
Friday 19.8.2022
The tea room is open from 14:00 – 18:00.
Saturday 20.8.2022
The tea room is open from 12:00 – 17:00.
14:00-17:00 Yukata workshop and photography, origami workshop
Try on a Yukata, a Japanese summer garment! After dressing up, you can have your picture taken in the idyllic Dammisaari garden landscape. Putting on the Yukata takes around 20 minutes.
Dressing and photography 10€.
Same time you can join our origami paper art workshop!
Sunday 21.8.2022
The tea room is open from 12:00 – 17:00.
OSJY ry reserves the rights to changes in schedule.